Magento is a flexible, scaleable e-commerce platform which suits medium and large businesses due to its functionality. Astral web has been been using Magento for our e-commerce clients because we truly believe that this is the best platform available today.
Developed in PHP, Magento enables you to manage the back end of several stores.  Magento makes it easy to address all your online business needs including orders, inventory management, and promotions.  To ensure customers have the best shopping experience, Magento supports Mobile Commerce and HTML 5, which enables touchscreen gesture control and image scaling without the use of Adobe Flash. Easy to understand and operate, Magento is the ideal e-commerce business solution.
Project flow chart below
Magento map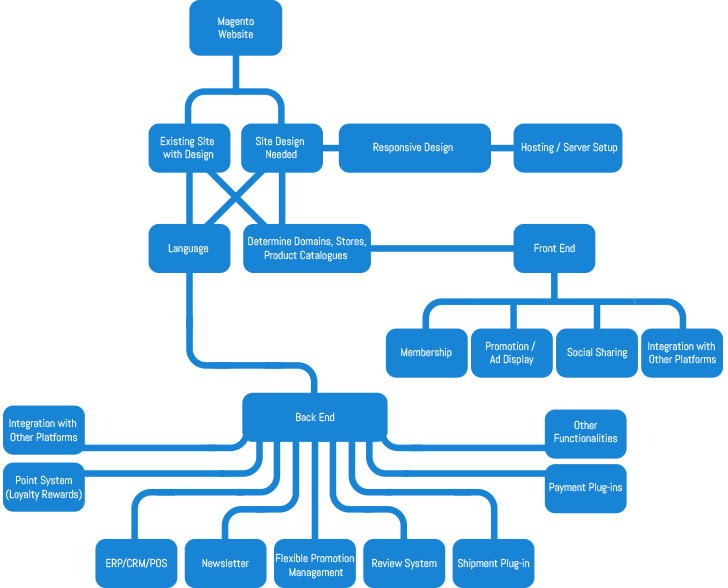 The Magento platform is available in two different editions: the Community Edition has no fee and is suitable for smaller businesses,  and the Enterprise Edition has an annual fee which includes extra features and a dedicated Magento SLA (Service Level Agreement). If you are not sure which version applies to your business, please consult us at Astral Web.  We would be pleased to conduct a detailed analysis for you.
Astral Web Magento has a professional background, enabling us to offer you the following services:
Responsive Web Design
Responsive web design can automatically adjust the layout of your site, adapting to any screen size.  Regardless of whether the site is viewed on a small mobile phone, tablet PC or a large computer monitor, the site will automatically 'flow' the pictures and text so that it always looks great, regardless of the device or its size.
▶ learn more
Magento Professional Coding
Due to the precise nature of coding, a single misplaced symbol or letter could negatively affect the website.  In order to avoid problems caused by careless coding, we fully comply with the Magento's rules for custom coding, ensuring that your site remains stable and reliable.  Remember, we are Magento experts!  You can trust us to do the job in a thorough, correct manner.
Magento Theme Design
With Magento's versatility, we're able to truly custom the look of your website. First, we will consult with you, helping you determine the theme that best represents your business and best suits your market. At that point, we will code your website from scratch, creating a look that truly belongs to you.
Multilingual Capability
Magento provides an interface that is multilingual – both the front-end and the backend all support multiple languages, enabling the website to expand internationally.
Magento Extensions
As an open source application, anyone with coding knowledge can write extensions for Magneto.  This has enabled a wealth of resources and extensions to be created, enhancing the functionality of the shopping site.  For example, although Magento features built-in PayPal, Taiwanese businessmen generally prefer alternate methods of third-party payment.  To properly address their needs, we at Astral Web have implemented Alipay Ali Pay, Ou Fu Bao All Pay, and Air Technology News Smile Pay, as well as other third-party packages.  We also support online credit card , ATM transfers, transfers through four different chains of convenience stores (7-11, Family Mart, OK, Lyle rich) and other payment services. In addition, Astral Web can integrate Magento into WordPress, enabling us utilize both functionalities to meet your needs.
▶ learn more
Magento Certified Hosting
At Astral Web we only uses servers that meet the strict requirements of Magento certification.  This results in better security, stability, and a faster-loading site.
▶ learn more
Sample Customer Sites
Since its establishment, Astral Web has completed many Magento website projects for businesses in varied locations including the United States, Israel and Taiwan. We serve a wide variety of different businesses, selling a variety of goods, including gaming tables, watch repair, as well as fashion and leather accessories.  To see living examples of the services we provide, please refer to the Astral Web project introduction.
▶ learn more
Third-party payment cash flow API
Astral Web offers the Magento shopping cart system including Paypal (Ali Pay), Europe Fu Bao (All Pay), Air Technology News cash flow (Smile Pay), as well as other third-party payment systems.  We can also support online credit cards, ATM transfers,  overseas money transfers and other payment methods to facilitate consumers, maximizing the potential of your e-commerce business.
▶ learn more
Magento Integration with ERP management system
The Magento shopping cart system can be easily customized for convenient, easy integration with other services. Astral Web sites can be integrated with the Magento ERP system, allowing the two sides complement each other, enhancing the user experience.
▶ learn more
Magento integration with CRM customer management system
CRM is a customer-centric system.  It effectively safeguards customer data, draws conclusions, understands customer preferences, and helps promote the development of customer relationships. Astral Web can integrate Magento with the CRM customer management system,  empowering you to track customers in a structured and efficient way.
▶ learn more
Magento integration with POS ordering system
Many companies use a POS system to record sales information, to help manage inventory and order issues. We can integrate Magento with existing POS systems, connecting your online store and with your physical one.  This enables them to share background information, so that both sides always have the latest information regarding sales and merchandise.
▶ learn more
Magento Go Transfer Service
Development of Magento Go service for small business will end in February 2015, so the company may focus on the development of Magento Enterprise Edition and Community Edition for medium and large enterprises.  If you are a Magento Go merchant looking to transfer to Enterprise or Community Edition, we can provide you with valuable assistance.
Magento Tutor
In addition to website design, Astral Web also offers Magento training services to help businesses easily get started with the Magento system. Through video tutorials, written articles or tutoring by telephone, we can guide you every step of the way.  We are happy to share our knowledge. We provide resources for you to download and install, including our background operation training and information integration kit.  We want to quickly get you going with the Magento shopping cart system.